A sharp rise in Covid infection rates in parts of South Africa is being linked to the new Omicron variant.
The variant, first identified in South Africa, has led to new border restrictions being imposed around the world to prevent its spread.
Rates of vaccination are comparatively low in southern Africa, so could this be a factor in the appearance of a new variant of concern in the region?
How low is South Africa's vaccination rate?
The global average is more than 100 doses per 100 people, and many richer countries have far exceeded that.
But in South Africa, only 42 doses have been administered per 100 people.
Elsewhere in the region, the rates are even lower. Lesotho has given out fewer than 30 doses per 100 people, and Namibia just 25.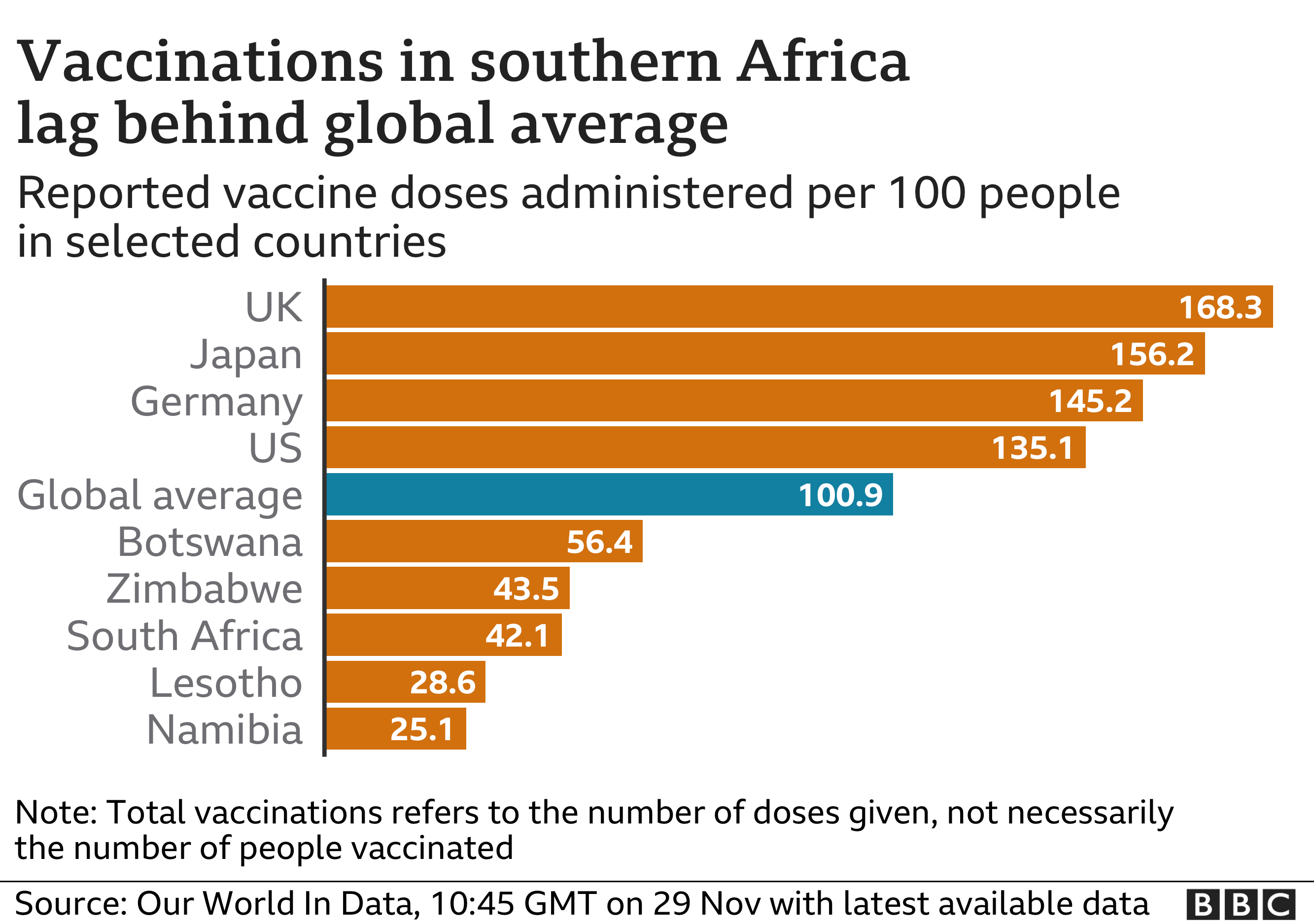 Could low vaccination be a factor in Omicron's appearance?
The variant was first identified in South Africa's Gauteng province, a region with among the three lowest vaccination rates in the country at just 32% of the adult population.
But making a link between the two is not straightforward.
The virus mutates as it jumps between people as well as when it replicates within an infected person.
In a population with a low vaccination rate, there will be more infected – and sicker – people around, creating more opportunities for the virus to mutate.
But potentially harmful mutations can take hold as the virus attempts to get round the immune defences of vaccinated or previously infected people.
So a population with some immunity, but not enough to stamp out the virus, and where the virus widely present, is a good environment for new mutations to develop.
Another factor is those who already have suppressed immune systems – as a consequence of the HIV virus for example – and who might have longer and more severe symptoms if infected with Covid.
This would give the coronavirus more opportunity to mutate within a sick individual.
Untreated HIV infection is a major problem in the southern African region where the Omicron variant was first identified.