Nurses across the globe have been instrumental in helping fight Covid-19, but it's been a job that has taken a heavy toll – both physically and mentally.
Nowhere has this been more apparent than in Italy, the first country in Europe to be overwhelmed by the virus in 2020 – and one of the first to impose a national lockdown.
'We carry everything we've seen'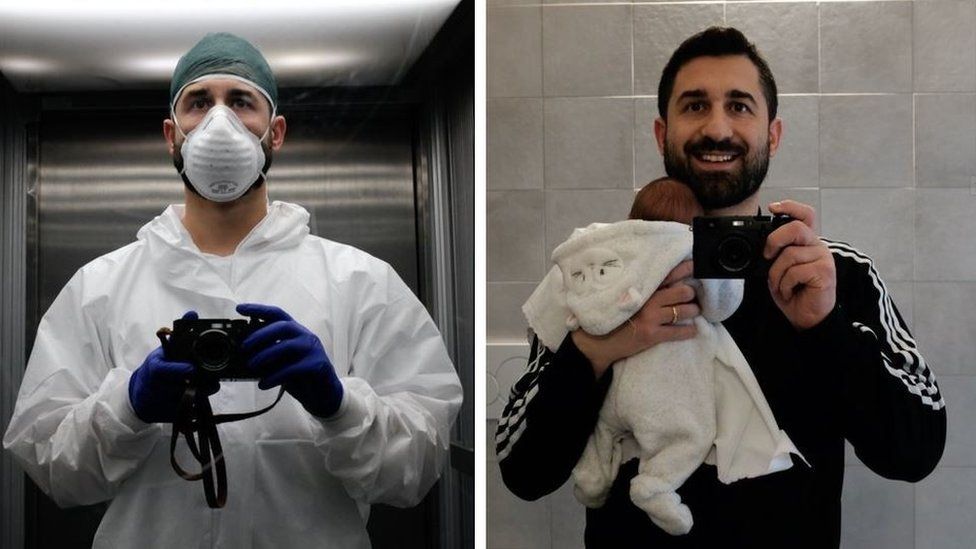 "I never thought I would get my life back," says Paolo Miranda, an intensive care nurse in Cremona who last year decided to document the bleak situation inside his unit by taking photographs.
The portraits showed how his colleagues were coping after the first wave – as the pandemic became the "new normal" and people stopped celebrating them as heroes.
"I never want to forget what happened to us. It will soon become history," he told the BBC at the time. "Although the emergency is slowing down, we feel surrounded by darkness.
"It's like we are full of wounds. We carry everything we've seen inside us."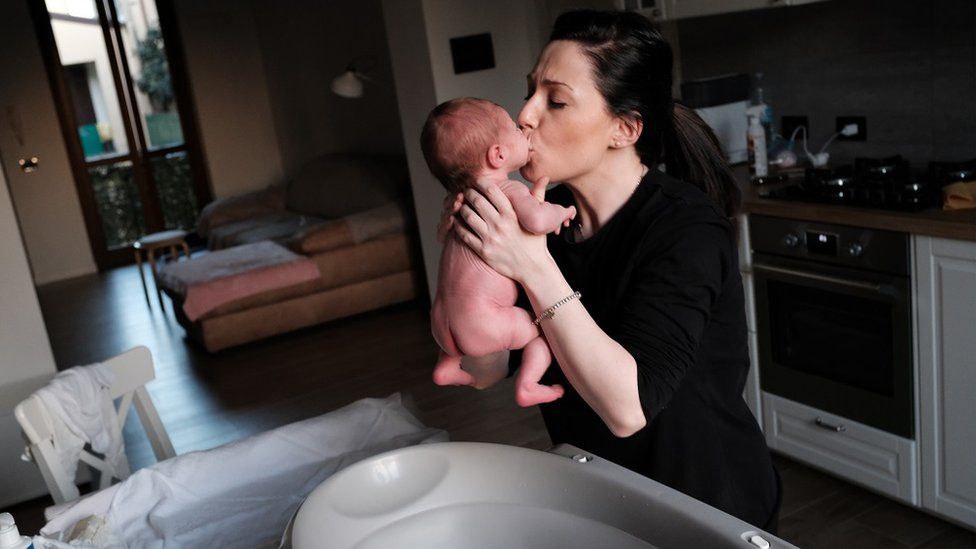 One major change has happened for Paolo since then – he's become a dad.
"We called our daughter Vittoria, which means victory. Bringing a new life into the world during such a disastrous situation gave us a lot of hope."
Paolo, who says he has post-traumatic stress disorder (PTSD) from the events of the past year, says many of his colleagues have also decided to have children – almost in defiance of all the death and suffering they've had to endure.
"My daughter is helping me so much to deal with burnout. I come home, I look at her, she smiles back… it's wonderful."
'I had to treat Covid deniers'
In February 2020, Italy became the global centre of the pandemic – and a cautionary tale of what happens when a healthcare system in one of the wealthiest parts of the world collapses.
At the time, Martina Benedetti, an intensive care nurse in Tuscany, told the BBC she wasn't sure she wanted to be a nurse any more.
She's had a change of heart since then, describing her job as "wonderful", but warned that it's not for everyone.
"I feel like I have aged 10 years. I used to be carefree and light-hearted… that person is gone."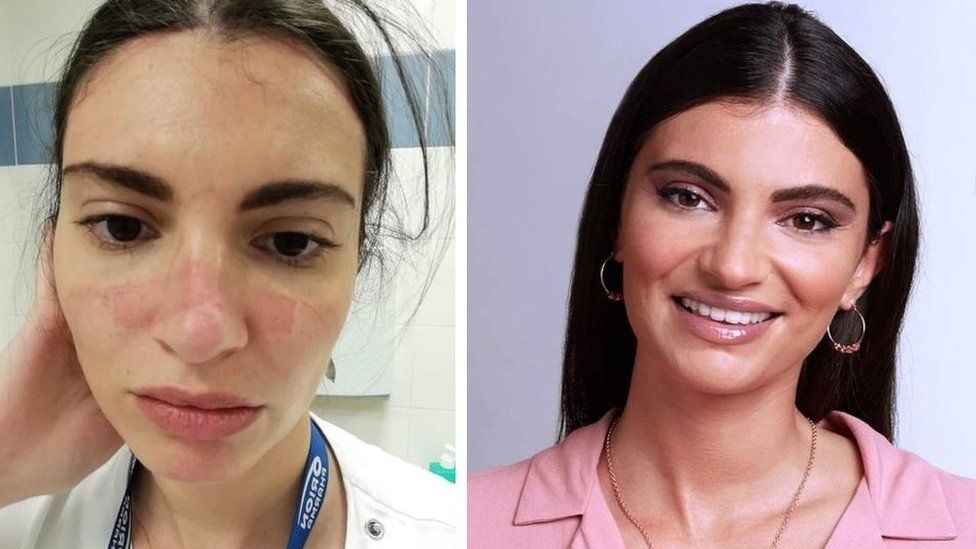 Writing helped her cope. After a long shift, she'd go home and before bed write down her feelings, which she later turned into an e-book.
Martina says it's been particularly hard to deal with patients who denied the existence of Covid – some of whom ended up in her intensive care unit.
"I had to treat people who were inciting others on social media to not wear masks, and called nurses liars."
But Martina said that on some occasions, she managed to change their minds.
"One Covid denier, after they got discharged went on Facebook and wrote the exact opposite of what he used to think. It was a victory for me."
'I discovered a strength I didn't know I had'
A study conducted on Italian nurses by the EngageMinds HUB research centre found those who engaged with their patients showed lower levels of PTSD and burnout.
"Often patients and their relatives are seen as a burden that slows down an emergency response," says Dr Serena Barello, one of the authors of the study.
"But taking the time to explain things to them, sharing responsibilities, joy and pain, means there is an extra human resource in your team – and ultimately this makes the job easier."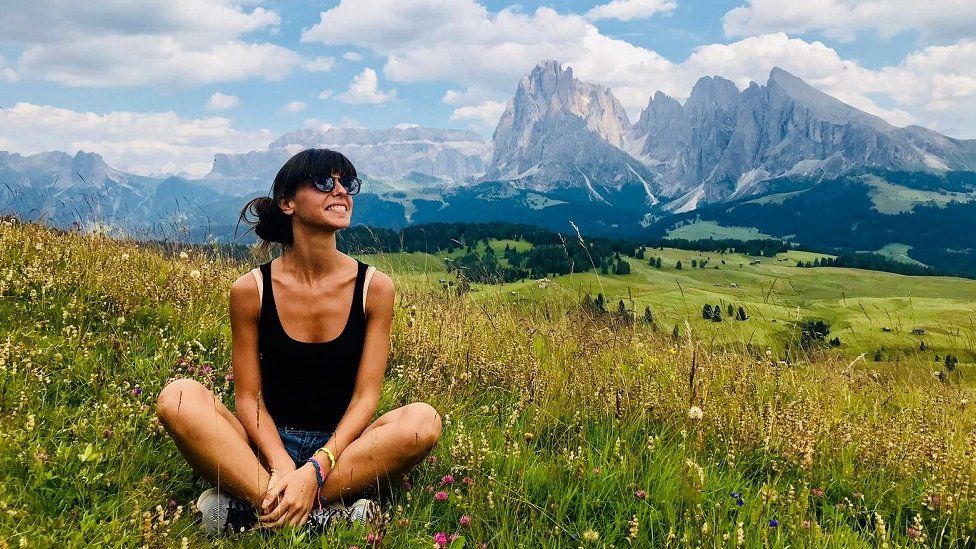 It also found 90% of those involved in the study never considered leaving their jobs or asking for a transfer during the pandemic – instead they felt an immense sense of pride, a feeling echoed by care home doctor Elisa Nanino.
"The pandemic gave me confirmation that I am in the right job. I discovered a strength I didn't know I had. I saw people die, I cried, but I also saved people's lives. It's priceless."
Elisa says when she got home from work and couldn't switch off, cooking helped her. She would make batches of tiramisu and bring them to her hospital to share with her colleagues.
Her biggest piece of advice for healthcare workers is not to feel guilty about those they couldn't save.
"It's simply impossible to save all the sick people that come in front of you during a pandemic. You can only do your best, but don't go home and agonise over it."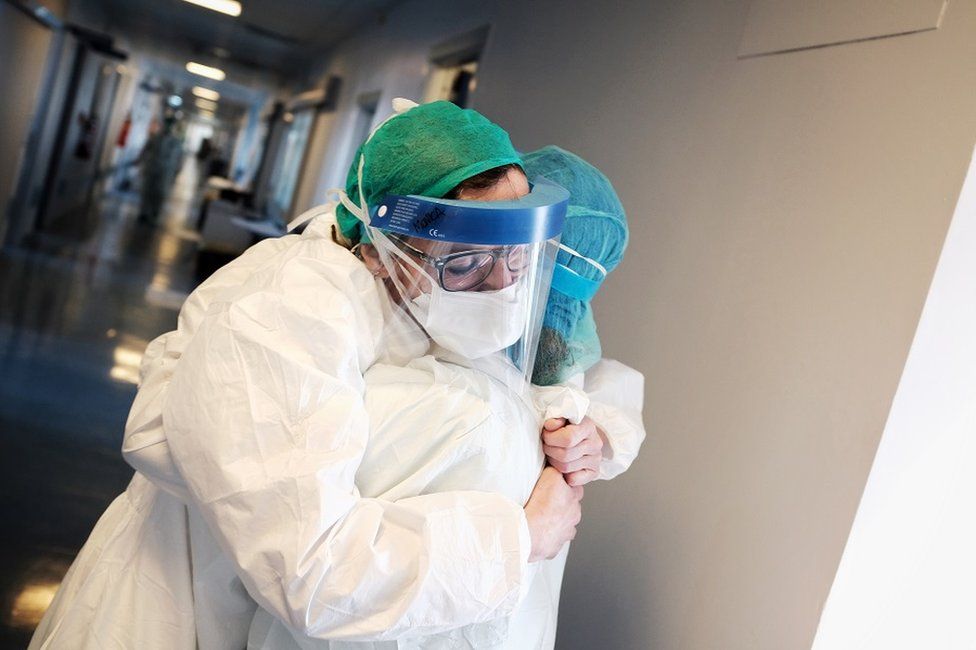 For Martina, it was difficult to talk to friends and family because they didn't fully understand what she was going through. She said it was her colleagues who helped her carry on.
"My best piece of advice for nurses out there who are dealing with a crisis is to work as a team," she says.
"When you are crumbling, trying to hide it is just a waste of time. You'll get nowhere by yourself. Talk to your colleagues – they are probably going through the same thing."
'Finding peace of mind again'
As a result of the pandemic, Dr Barello worries many nurses and doctors will experience PTSD, which can affect someone months or even years later.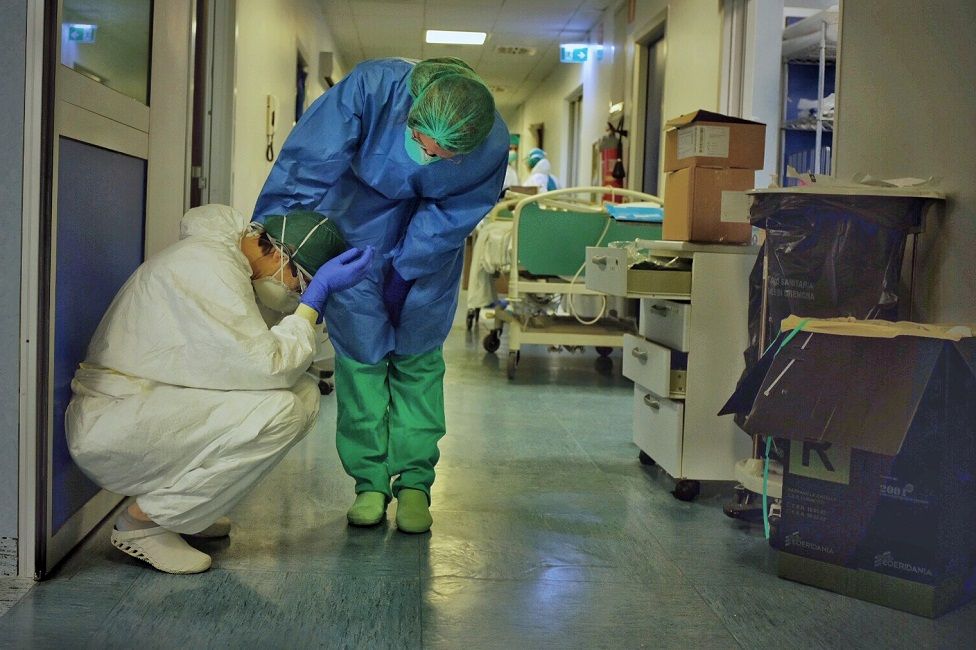 "When you finally have time to reflect on what happened, and society is moving on, it can all come crashing down and you feel more exhausted and emotionally distressed."
She says hospitals have to step up and offer staff the psychological support they need and push them to take care of themselves – including encouraging them to reclaim their private lives, which have completely disappeared for the past year-and-a-half.
This could include resuming hobbies that were abandoned, spending time with family, doing sports – especially outdoors. Martina intends to do just that.
"I am planning a trip in the mountains with my husband – somewhere in the middle of nature, isolated, where I can finally find peace of mind again."