India has recorded the highest one-day tally of new Covid-19 cases anywhere in the world – and the country's highest number of deaths over 24 hours.
It has close to 16 million confirmed cases, second only to the US.
The country is struggling with a second wave, raising more fears about its overwhelmed health care system.
Crowds have formed outside hospitals in major cities which are filled to capacity. A number of people have died while waiting for oxygen.
Families are waiting hours to perform funeral rites, Reuters news agency reports, with at least one Delhi crematorium resorting to building pyres in its car park in order to cope with the numbers arriving.
Meanwhile, some countries are bringing in stricter rules affecting travel to and from India amid fears over the rising cases.
What's happening in India's hospitals?
India is struggling to cope with the soaring numbers – it recorded some 314,835 new coronavirus cases in the past 24 hours, while deaths rose by 2,104.
Oxygen supply has been a particular problem, with a number of hospitals in the capital Delhi running out entirely on Thursday, according to the city's Deputy Chief Minister, Manish Sisodia.
Numerous other hospitals are understood to be running dangerously low on supplies, including one treating another Indian politician, Saurabh Bharadwaj.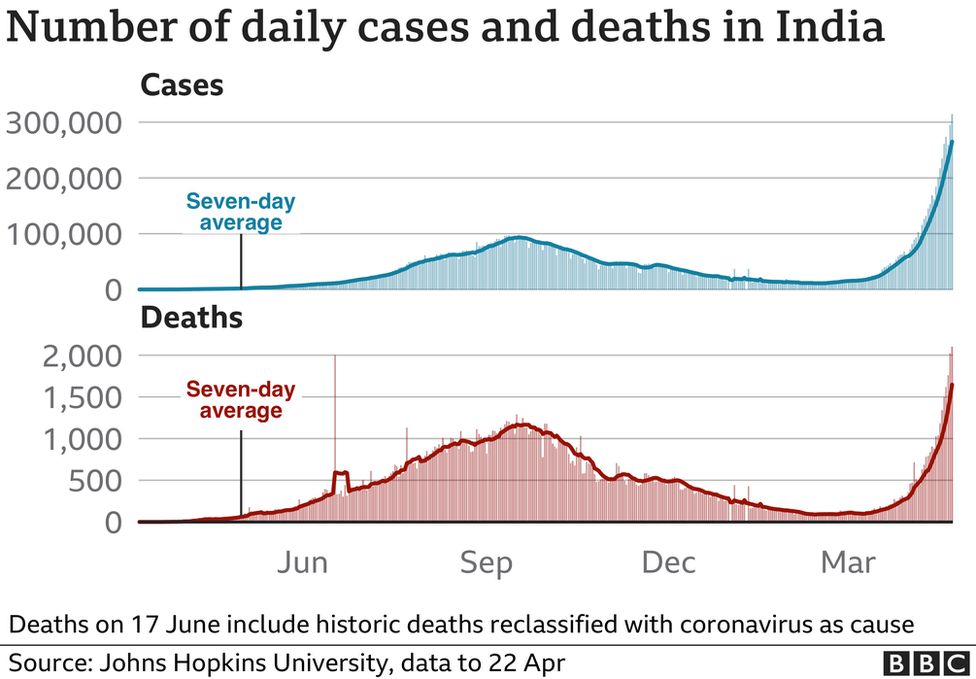 Delhi legislature member Mr Bharadwaj posted a plea for help in Hindi on Twitter from his hospital bed, saying there were just three hours of oxygen left.
The crisis worked its way to Delhi's highest court on Wednesday, where judges publicly criticised the central government for its handling of the oxygen crisis in the city.
"This is ridiculous. We want to know what the centre is doing with regard to oxygen supply across India," the judges said while reading out the verdict in a petition by the owner of six private hospitals.
On Thursday, as hospitals warned stocks were rapidly diminishing, Prime Minister Narendra Modi held a meeting to attempt to end the crisis. He asked officials to find ways to produce more oxygen, while telling states to come down "heavily" on anyone hoarding supplies.

A feeling of helplessness
By Vikas Pandey, BBC News, Delhi
My phone is constantly ringing with desperate friends and family asking for help to arrange beds and medicine. Some I am able to help, and some I can't.
I personally know of many cases where patients died because they couldn't get oxygen in time. It's heart-breaking for families to hear that the hospital where their loved ones are being treated may soon run out of oxygen.
Emergency intervention from the government has stopped any big disaster from happening so far, but there is an urgent need to give hospitals enough oxygen so they can sustain the increasing caseload.
But experts are asking why the government allowed the situation to become so dire. The pandemic was under control in January but the lean period was not used to augment healthcare facilities.
And now people are paying a heavy price for it, and we are left with a sense of helplessness all around.

How is India trying to contain cases?
Unlike last year, no national lockdown has been announced. Instead, regions are implementing their own rules.
The authorities in the worst affected state of Maharashtra – which was already under a partial lockdown – have announced a series of additional restrictions starting from Thursday evening.
Maharashtra is India's richest state and home to its financial hub, Mumbai. It has also been a Covid hotspot since the start of the pandemic, accounting for a quarter of India's cases.