More than 60 suspected Covid outbreaks in offices were recorded in the first two weeks of the current lockdown in England, a BBC investigation has found.
Under England's lockdown rules, in force since 6 January, people should work from home if they can.
Public Health England figures, obtained via a Freedom of Information request, suggests offices have had more outbreaks compared to other workplaces.
The government has urged firms to help employees work from home.
It said it has worked with trade unions, businesses and medical experts to produce "comprehensive guidance" to help firms that are permitted to stay open and it has introduced rapid testing of employees.
The data from Public Health England, obtained by the 5 Live Investigations team, lists the different types of workplaces where there have been clusters of cases.
The figures reveal for the first time which are the most susceptible to Covid outbreaks, with offices coming top.
The data showed there were more than 500 outbreaks, or suspected outbreaks, in offices in the second half of 2020 – more than in supermarkets, construction sites, warehouses, restaurants and cafes combined.
This has prompted calls for curbs on employers bringing non-essential staff into offices as well as demands from unions for tougher safety rules.
The rules for England's lockdown state that "you may only leave your home for work if you cannot reasonably work from home", with only essential workers in critical sectors allowed to travel into work.
However, the Health and Safety Executive received nearly 4,000 Covid-related complaints about workplaces in January.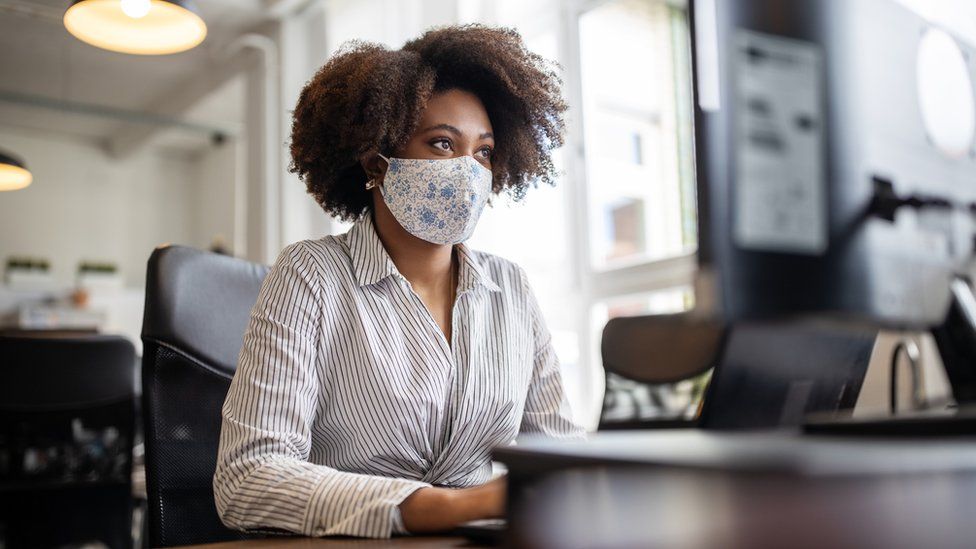 "It's likely I got ill at work," says call centre worker Dan, not his real name, who contracted Covid this month and passed the virus to his girlfriend.
He works in the Bristol office of outsourcing firm Woven – where he says up to 30 people can work on his floor.
He says they hot desk, share toilets and the windows are always closed.
Many of his colleagues have worked in the office throughout the pandemic and several have had Covid, Dan says.
"We've had five or six cases in the office and still everybody is being asked to come into work to answer calls," he says.
Woven said it had been working on its IT infrastructure for several months to allow more employees to work from home.
"Our primary concern is the health and wellbeing of our colleagues," a spokesperson said.
"We have worked closely with Public Health England since the start of the pandemic to implement extensive safety measures in line with government advice."
'Extremely stressful'
Although clinically vulnerable workers have been told not to attend work, their family members have no such protection.
Michelle, not her real name, works in an office for Greater Manchester Police, where she says there have been multiple Covid cases.
"If I bring Covid into my house, there's a very real chance that my partner wouldn't survive," says Michelle, whose husband is vulnerable.
"It's extremely stressful for him as well as for me."
The office she works in is small and stuffy, she says, with police officers coming in and out throughout the day.
"I just stepped out of the office, and when I came back, somebody was sitting at the workstation on the computer and using the phone with no mask," Michelle says.
"I was really angry and very upset."
Michelle, who was not expected to come in during last year's first national lockdown – when people could only travel to work if it was "absolutely necessary" – cannot do her job from home.
She feels it is unfair that she is made to work in the office because of the risk posed to her husband.
"I perceive myself to be vulnerable due to the fact that I have a vulnerable partner," she says.
In a statement, Greater Manchester Police said the health safety of its workers was a priority and it had taken a "proactive approach to keep our officers and staff safe in the workplace".
The force said it follows the latest government advice regarding staff living with vulnerable people and is doing all it can to try to support them.
All of its buildings are "Covid-secure", the statement added, and staff can raise any concerns in a number of ways.
'Toxic combination'
Prof Phil Taylor, who has spent years researching call centre and office work, says offices provide the perfect environment for Covid to spread.
"They have high occupational densities with little social distancing and are often sealed, with air con just recirculating pathogens like Covid," said Prof Taylor, from the University of Strathclyde.
"Hot-desking is commonplace and cleansing is hit and miss. It's a toxic combination."
Prof Cath Noakes, who sits on the government's Scientific Advisory Group for Emergencies (Sage) committee, said poorly ventilated offices could increase the chances of contracting Covid from tiny airborne particles by up to 70%.
TUC General Secretary Frances O'Grady said: "Everyone has the right to be safe at work. But Boris Johnson and his ministers have failed to get a grip on Covid safety in workplaces."
A government spokesperson said: "We continue to reinforce the stay at home messaging to businesses and the overwhelming majority are doing the right thing, but we need all employers to act responsibly and take every possible step to help their employees work from home."
souce:https://www.bbc.com/news/uk-55843506