About 400 musicians and music teachers have called for a ban on singing indoors in schools to be overturned.
The instruction from the education minister prohibits pupils singing individually or in choirs inside.
Choirs were allowed to sing indoors during the term from September to December, as long as social distancing and good ventilation were in place.
But in a statement to BBC News NI, the Public Health Agency (PHA) said the more transmissible "Kent variant" had not been prominent when schools were fully open in the autumn.
The instruction from Education Minister Peter Weir also banned playing wind instruments, such as recorders or flutes, and brass instruments, such as trumpets, indoors.
There is a similar ban on indoor singing for childcare settings.
The Education Authority (EA) has also said tutors from its music service cannot resume face-to-face teaching after the Easter break.
However, singing and playing can take place outdoors at schools.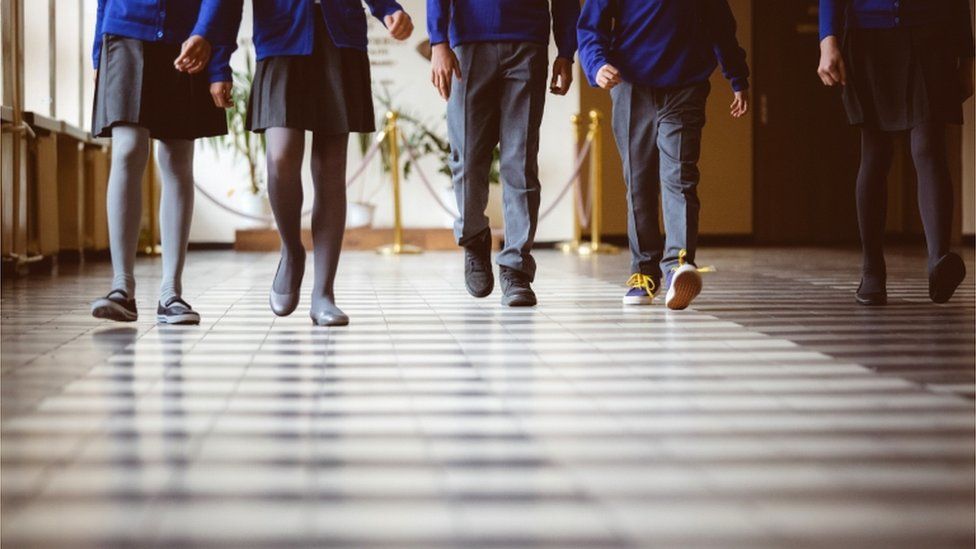 But in a statement, the musicians and teachers said that was "at odds with guidance elsewhere in the UK".
In England, for instance, although guidance for schools says there may be an "additional risk" associated with singing, chanting, or playing wind or brass instruments they can go ahead indoors with safety measures in place.
"If indoors, use a room with as much space as possible, for example, larger rooms, rooms with high ceilings are expected to enable dilution of aerosol transmission," guidance to schools in England states.
"If playing indoors, limit the numbers to account for ventilation of the space and the ability to social distance."
'Appropriate safety measures'
The statement from 400 teachers and musicians in Northern Ireland said they had so far provided "safe, effective music education throughout the pandemic".
"Risk assessments have been undertaken, and the appropriate safety measures have been put in place," they said.
"The benefits of singing and music-making in terms of children's confidence, as well as their social, emotional, and educational well-being are well-established.
"Music enhances well-being, it lowers stress levels and studies show it may boost the immune system.
"Our young people have never needed these things more."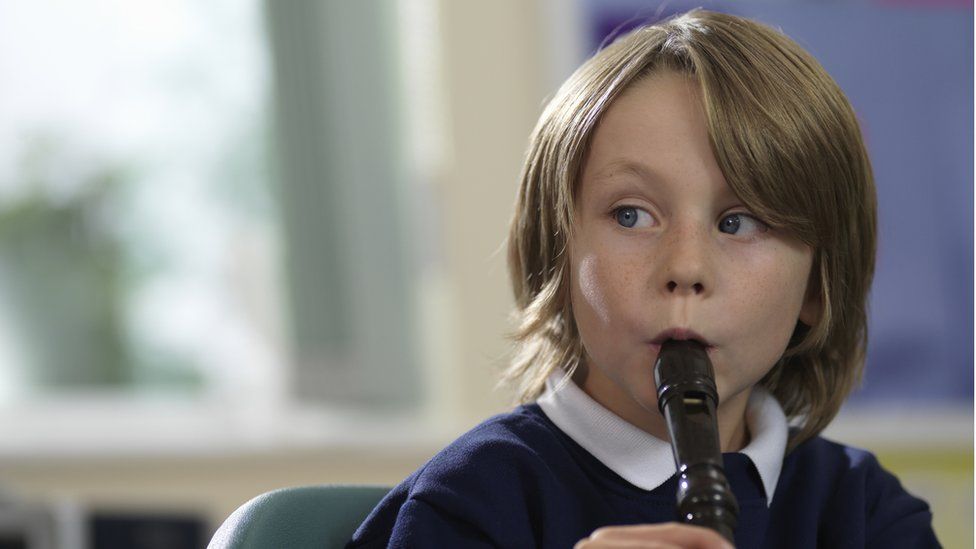 They also said music was "integral" to the Northern Ireland curriculum.
"Music is an area where Northern Ireland has always excelled on the world stage, but this recent decision casts a shadow over its future," the statement said.
The 400 signatories called for the ban on indoor singing and playing in schools to be reconsidered.
Singing teacher Susan Shepherd, who works across schools in east Antrim and Belfast, said her pupils were being unfairly treated.
"They have practical assessments to complete as part of their GCSEs and A-levels, but they're not allowed to do them in a school setting, so presumably they'll have do an audio recording from home," she said.
"It's like things are going backwards for them, while everyone else is going forwards in terms of restriction easing, as they were allowed to sing before Christmas, so why not now? We can sing in churches now, so why not schools?"
'Reducing risk'
Mr Weir had said the decision was taken on the advice of the chief medical officer and the Public Health Agency (PHA).
In a statement to BBC News NI, the PHA said decisions on schools were "taken by the Department of Education and Education Authority with relevant public health advice".
"This is the first time that hundreds of individuals will have been together in a setting since the start of the current lockdown," the PHA said.
"We must also remember that the Kent variant which is 50-70% more transmissible is now a prominent variant in Northern Ireland.
"That was not the case when schools were last fully open.
"It is important that we do everything reasonable to reduce the risk of transmission."
"Singing produces both large droplets of respiratory secretions that generally fall onto surfaces within 2m of the singer, and small droplets that are carried on the air for some distance (aerosols).
"These droplets of respiratory secretions are a major route of transmission of the Covid-19 virus between individuals.
"Playing some woodwind instruments has a similar effect."
The PHA also said singing loudly produced more aerosols than talking at a normal volume.
It said the Department of Education had recommended a "gradual approach to the return of school life".
However, the PHA said arrangements for indoor singing and other activities prohibited when schools return were being reviewed by the relevant departments.