The number of people with coronavirus in the UK continues to fall, the latest weekly figures from the Office for National Statistics (ONS) suggest.
About 1.5 million people, 2.4% of the population (roughly one-in-40 people), were infected in the week ending 1 November.
The flu season has started early, leading to warnings of a difficult winter with both coronavirus and flu in circulation.
In the UK, more than 207,000 people have Covid-19 on their death certificate, while around 195,000 people have died within 28 days of a positive Covid test.
More than 12 million people, an estimated 55% of the population aged 50 and over in England, have now received an autumn booster vaccination.

The flu season has started early this year and December will see the start of the first full winter with no coronavirus related restrictions since 2019.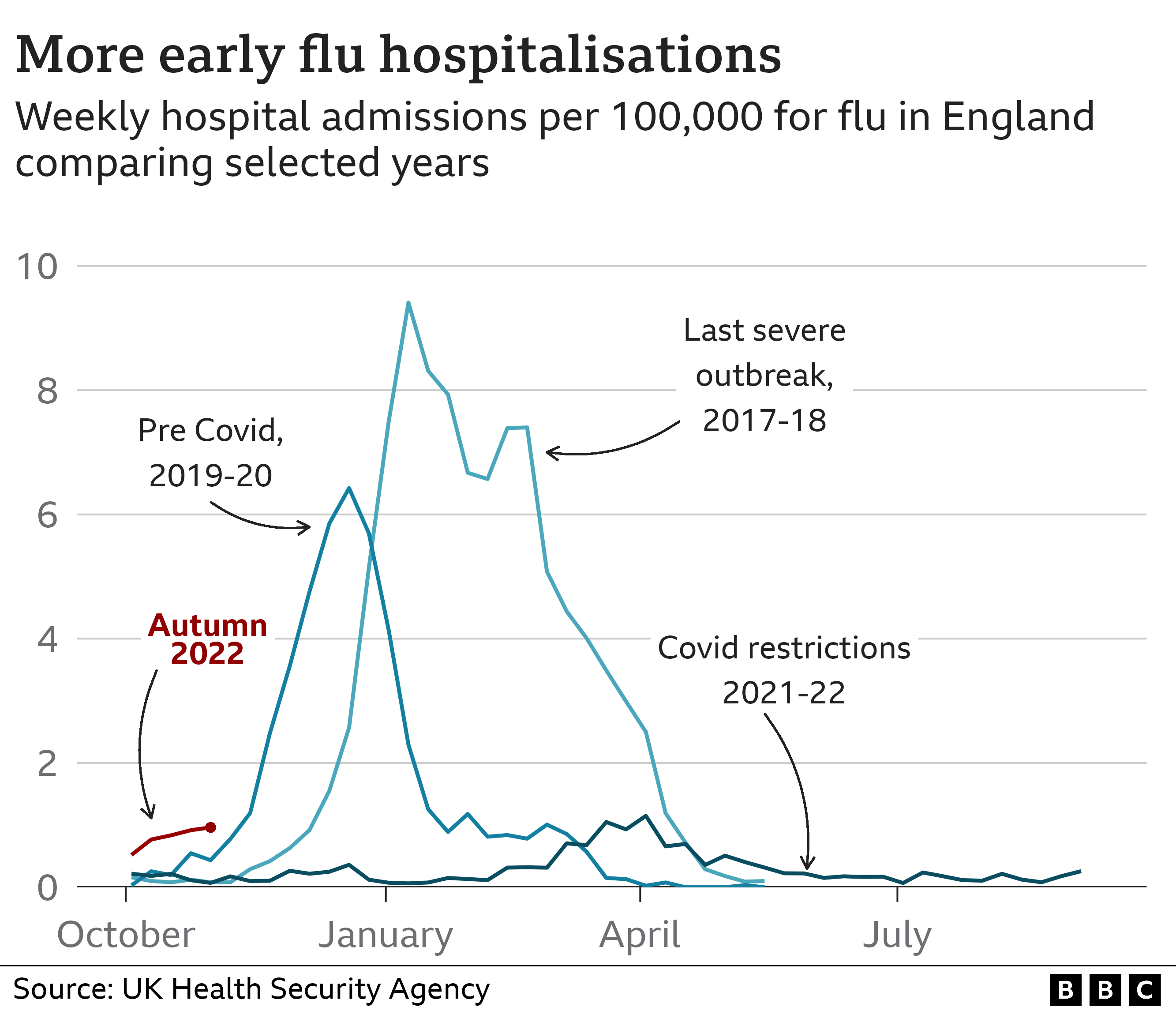 During the coronavirus pandemic the UK saw very little flu due to lockdowns, which meant people mixed far less.
However, as a result of this, natural immunity is thought to have declined across the population, prompting the government to push for all those eligible to take up the flu vaccine.
Winter 2017 saw a particularly severe strain of flu which had a large impact on older age groups.

Coronavrius cases across UK
The latest estimates on Covid infections for the week ending 1 November decreased from the week before, with an estimated one in every 40 people infected.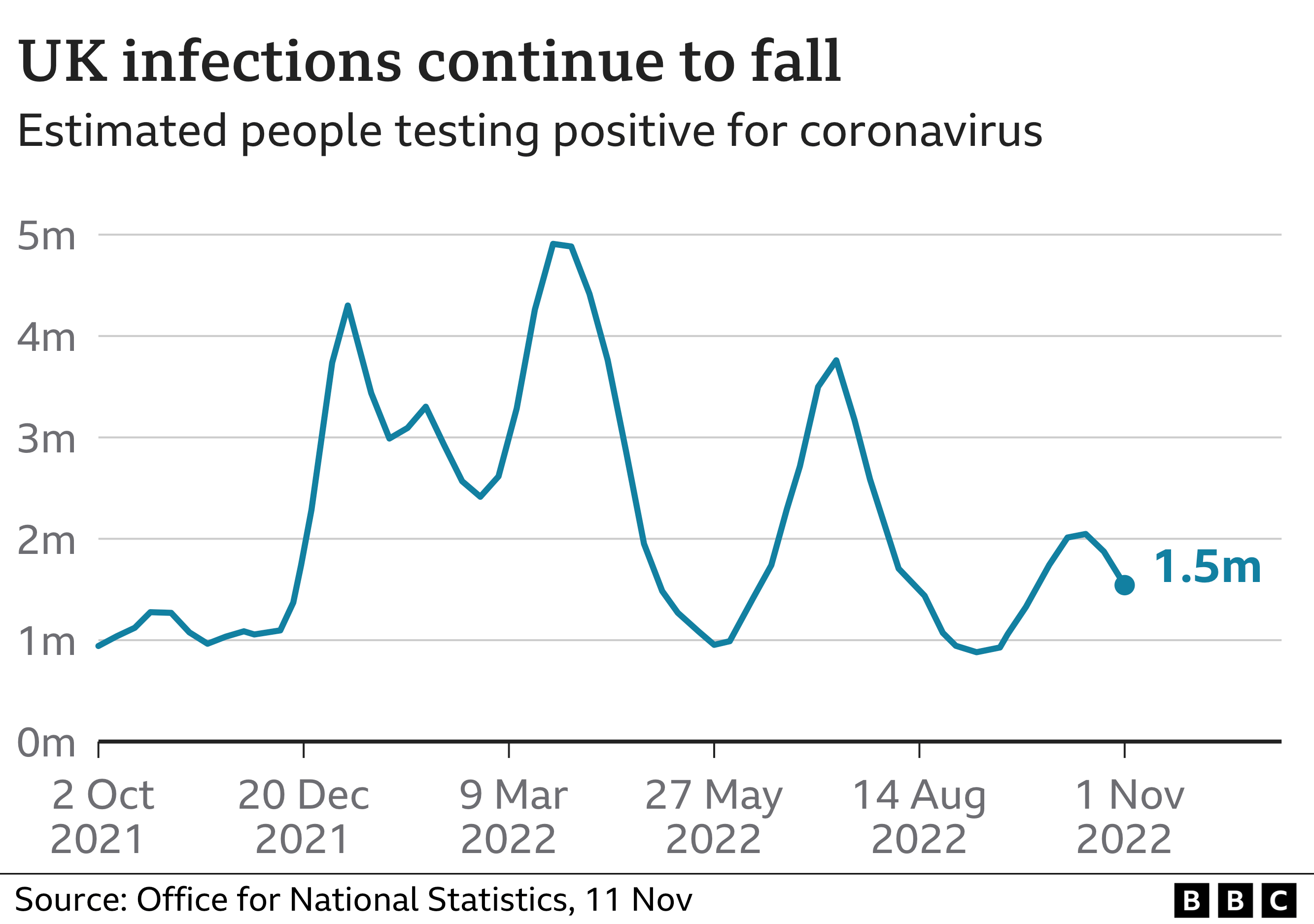 Infections fell in all UK nations as well as in all regions of England, except the North East and East of England, where trends were uncertain, according to the ONS.
Covid-19 levels declined across all age groups in England. Infections were highest in those aged 70, with an estimated 3% of people in this age category infected.

As of 3 November, government figures for the whole of the UK show 8,448 people with coronavirus were in hospital, lower than the 10,695 recorded a week earlier. These are the latest figures available for all the UK nations.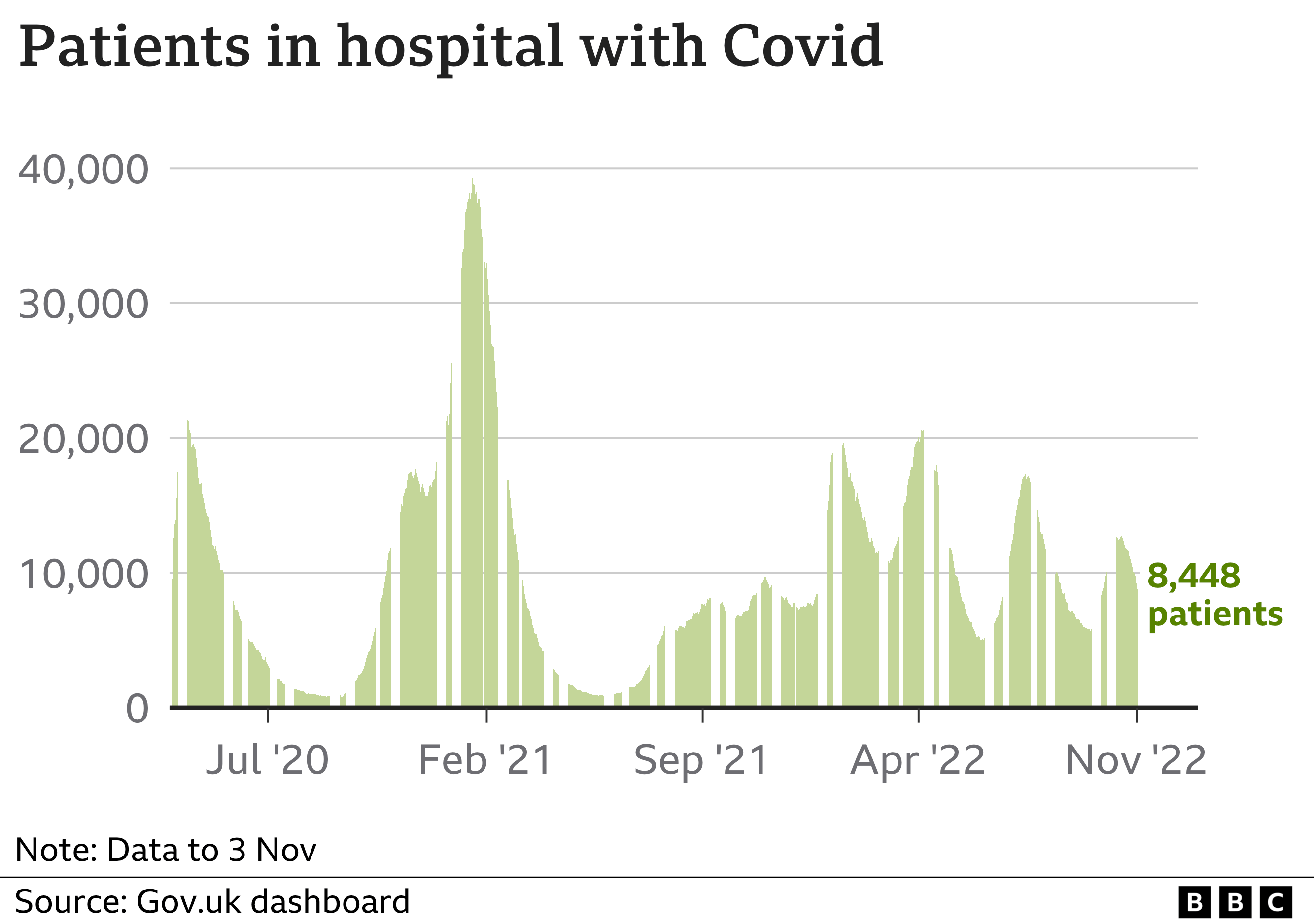 More recent figures for England show 5,647 people in hospital with coronavirus as of 9 November, down from 7,296 the previous week.
There were 598 hospital admissions with coronavirus on 7 November in England, compared with roughly 2,000 per day in early July during the last surge of Omicron infections.

These include all deaths where coronavirus was mentioned on the death certificate even if the person had not been tested for the virus.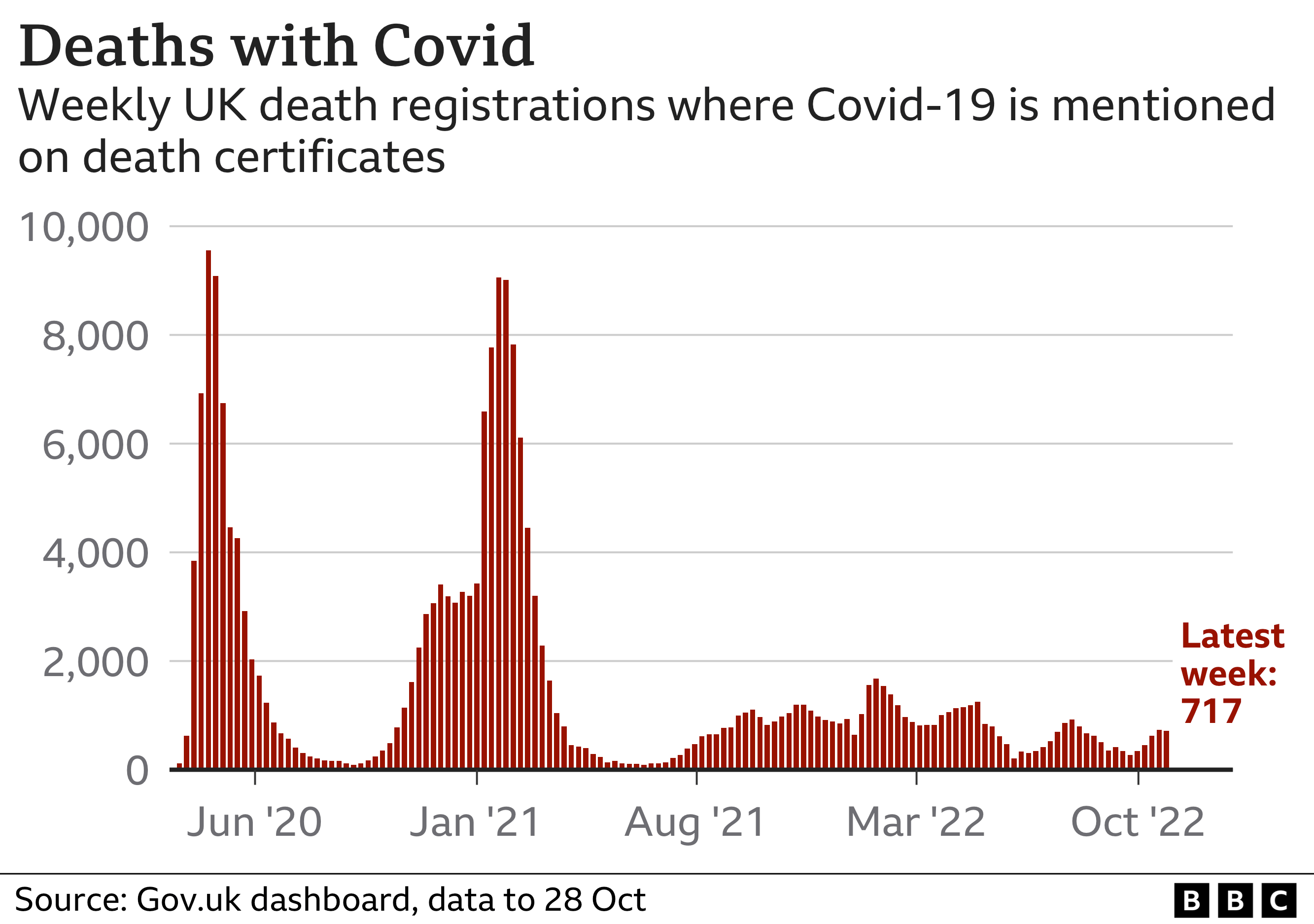 When looking at the overall death toll from coronavirus, official figures count deaths in different ways, each giving a different number.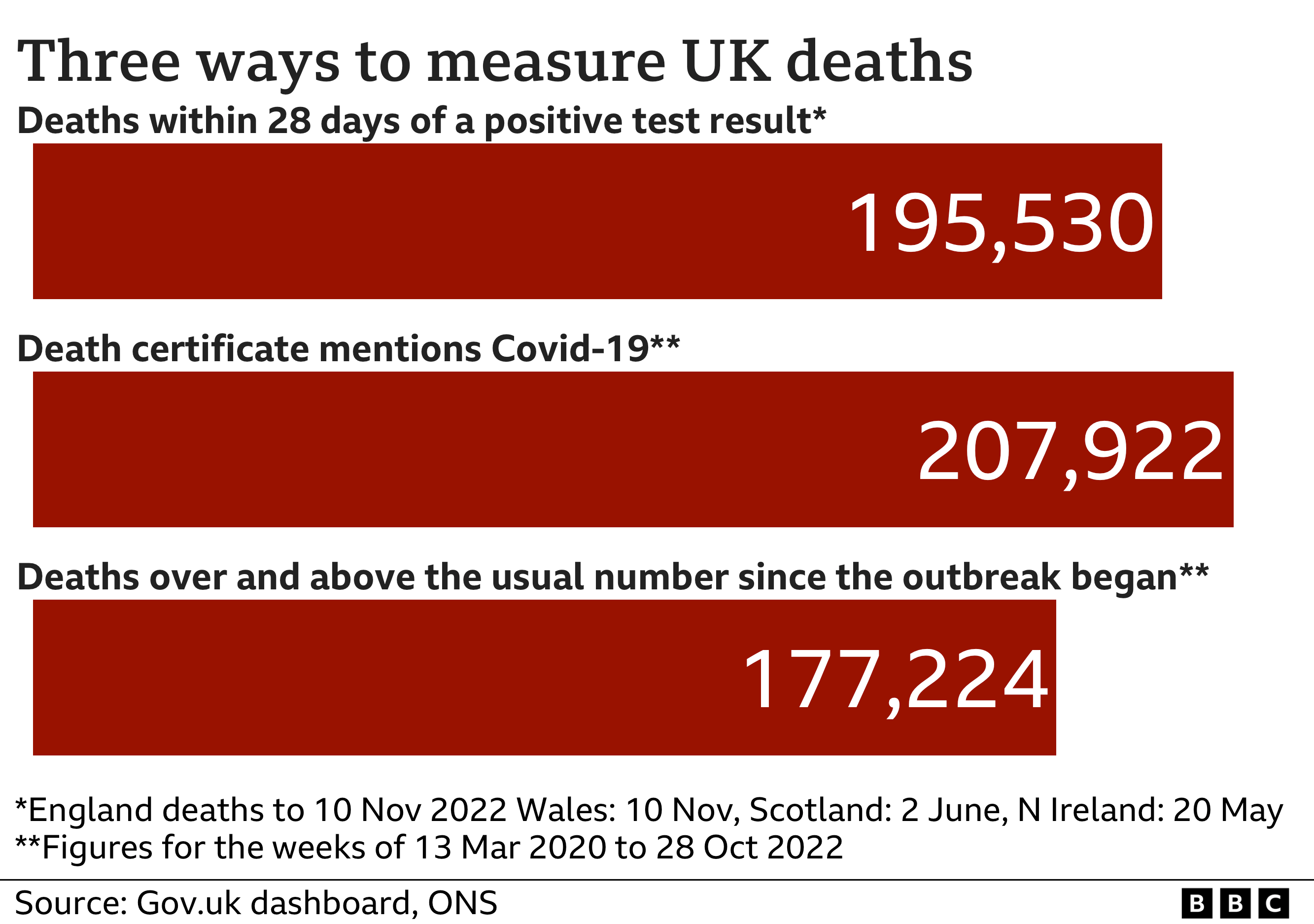 Government figures – the ones reported by nations – count people who died within 28 days of testing positive for coronavirus. This figure is over 195,000 although both Scotland and Northern Ireland have stopped reporting this measure.
According to a count of death certificates that mention Covid-19, the death toll of the virus has climbed higher than 207,000.
The third measure counts all deaths over and above the expected number since the pandemic began – that figure was about 177,000 as of 28 October. It is sometimes referred to as excess deaths above the long-term average.

Vaccine rollout continuing
More than 53 million people, about 94% of those aged 12 and over in the UK, have now received a first dose of a vaccine.
The number of people who have received a second vaccine dose is over 50 million, or 88% of people aged 12 and over.
An autumn booster campaign is currently underway. Over-50s in all UK nations are eligible to book a further Covid jab.
So far, over 40 million booster doses have been administered across the UK.
Read more
Related Content:Covid families left anxious by Scottish inquiry delays