Experts believe the emergence of new coronavirus variations in Africa have contributed to in an increase in the number of both cases and deaths reported in many countries on the continent.
There's also concern that these variants can't easily be tracked because the the type of testing required to identify them isn't available in most countries.
What's happening to case numbers?
At least 40 countries have now seen a second wave of the pandemic, including all countries in the southern Africa region, says the Africa Centres for Disease Control (CDC).
"This new wave of infections is thought to be associated with the emergence of variants that are more transmissible."
A new variant of the virus emerged in South Africa last year, and has contributed to record case numbers in the southern African region, according to the World Health Organization (WHO).
Elsewhere in Africa, this variant has also been officially recorded in Botswana, Ghana, Kenya, Comoros, Zambia, Mozambique and Tanzania.
It's highly likely to have reached other countries on the continent, but few have the capacity to carry out the specialised genomic sequencing required to detect coronavirus variants.
"Initial analysis indicates that the [South African] variant… may spread more readily between people," according to the WHO.
It doesn't appear to cause more serious illness.
However a new study shows the Oxford-AstraZeneca vaccine – the first to have arrived in South Africa – offers "minimal protection" against mild and moderate cases of Covid-19 arising from the new strain.
The study by the University of the Witwatersrand didn't investigate the vaccine's efficacy in preventing more serious infections.
In South Africa itself, daily new case numbers have started to fall significantly after a second peak.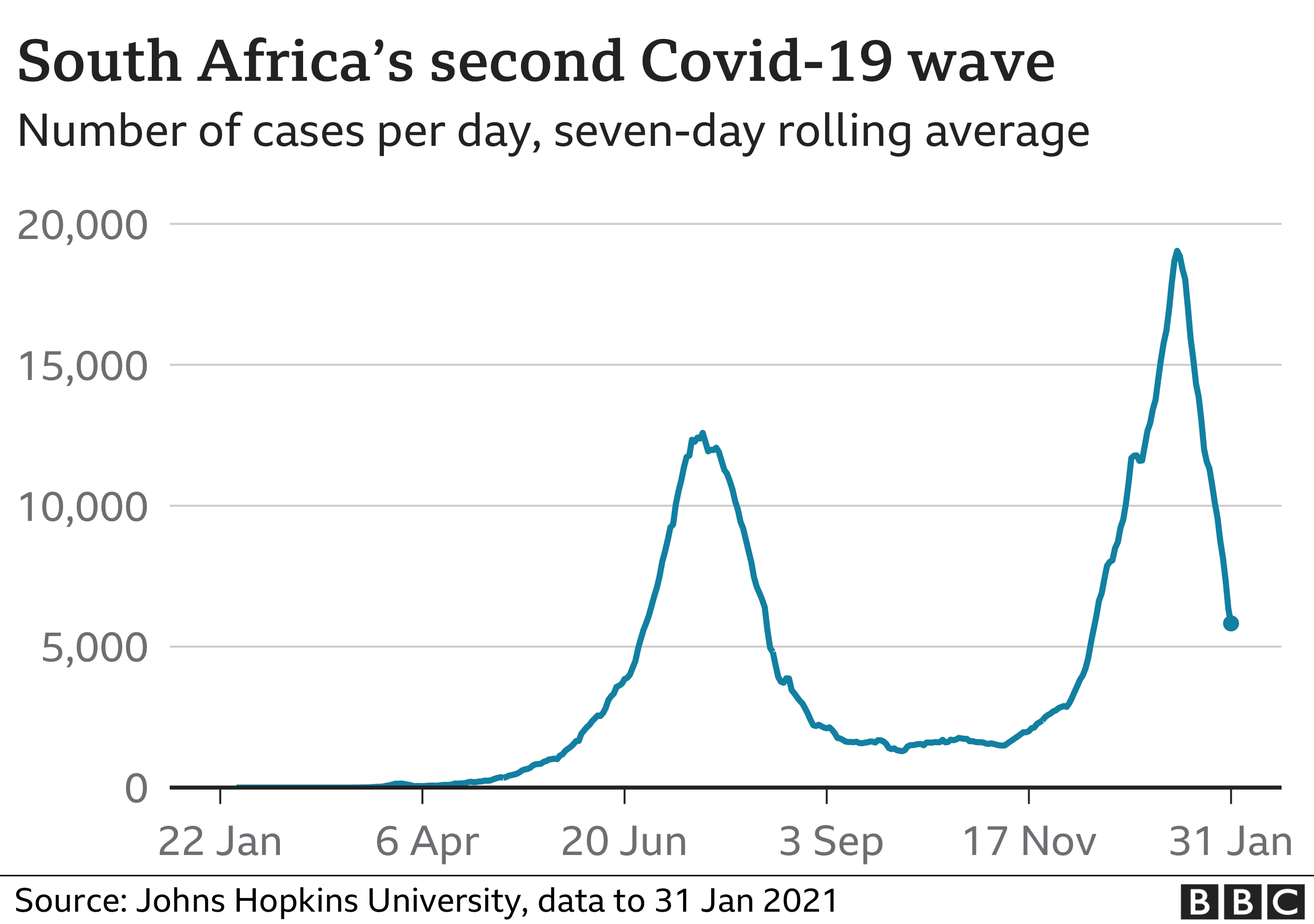 And because there are many more cases in South Africa than anywhere else on the continent, this has resulted in an overall fall of 18% in new cases across the continent over the past month, according to the CDC.
But there was a 40% increase in the number of deaths reported in January across the continenet compared with the previous month, according to the WHO, with total deaths on the continent now approaching 100,000.
Thirty-two countries reported an increase in deaths over the period, while for 21 countries, the rate fell or remained the same.
However, cases in Nigeria have been on the rise since early December, and are only just starting to trend downwards.
Read more:https://www.bbc.com/news/world-africa-53181555