Covid infections remain fairly stable across the UK, but other viruses such as flu, norovirus and RSV are increasing, latest data shows.
The flu season has started early and some children under five are ending up in hospital, health officials say.
They are also reminding parents that all two and three-year-olds can have a flu nasal spray vaccine.
Another common winter virus called respiratory syncytial virus (RSV) is also on the rise in young children.
It can cause chest infections and be particularly severe in the under-twos, especially those with underlying health problems.
Many young children have little natural protection from normal winter viruses because of the pandemic.
Dr Conall Watson, consultant epidemiologist for the UK Health Security Agency (UKHSA), said: "If you are ill, avoid visiting babies. Smoking around babies also increases their risk of severe RSV infection."
Advice is to seek help from 111 or your GP if your children have any unusual breathing or feeding difficulties, or seek emergency care if they seem seriously unwell.
Anyone with a vomiting bug, known as norovirus, is urged to drink plenty of fluids and avoid going to work or sending sick children to school until at least 48 hours after symptoms have disappeared.
To protect yourself and others from the bug, Dr Richard Elson from UKHSA recommends washing your hands with soap and warm water regularly and thoroughly, especially after using the toilet and before handling food.
"Alcohol gels don't kill norovirus," he added.
Dr Elson also asked people not to visit vulnerable family members in hospitals or care homes while unwell.
Flu levels have been very low in the UK for the past two winters because no flu was spreading during lockdowns.
However, this autumn, flu has begun to circulate early and at a higher level than in a normal year as experts predicted.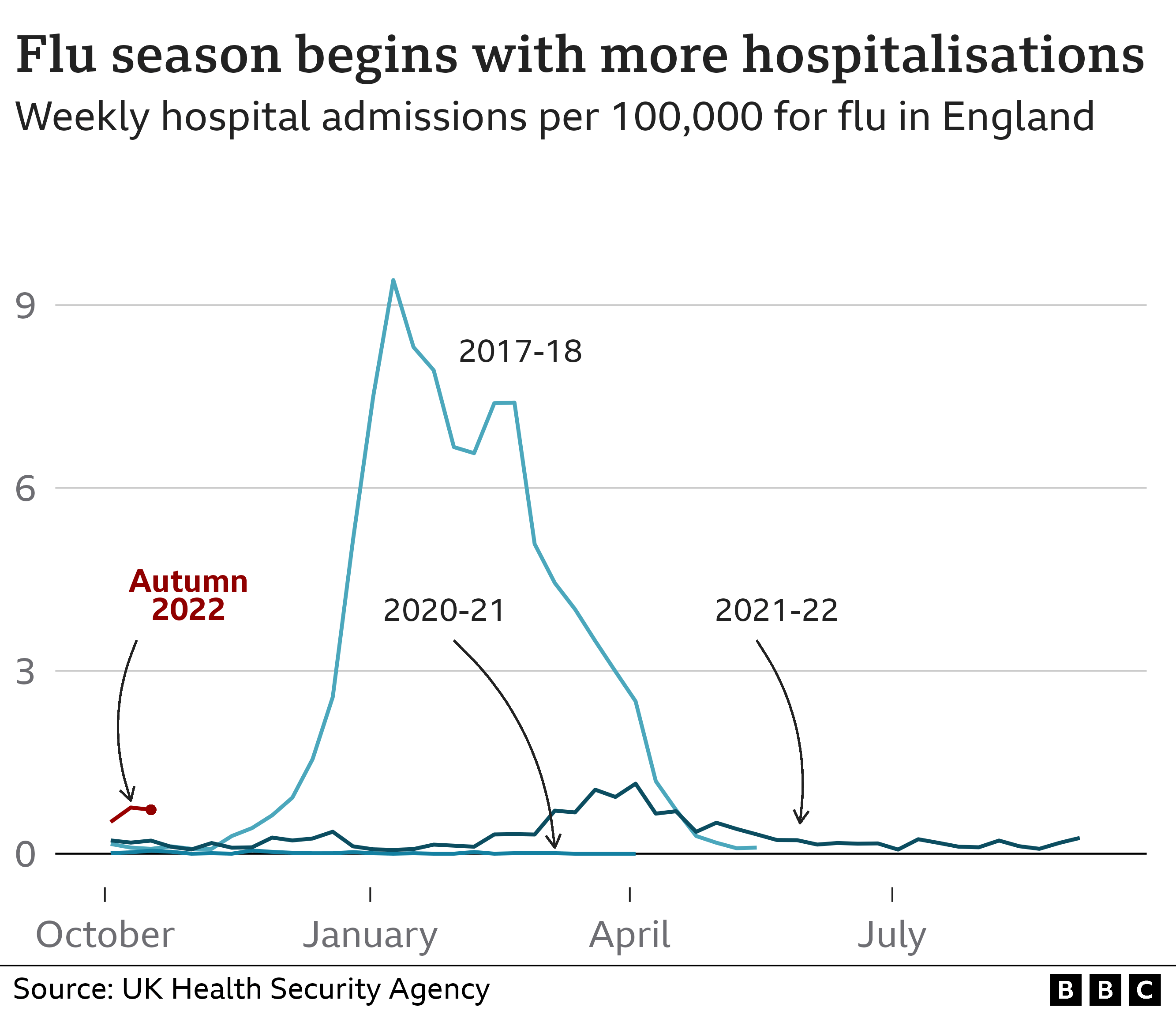 Hospital admission rates for flu are highest in children under four, and people aged 85 and over.
In a bad winter, like 2017, flu caused a large spike in hospital admissions, so people are being urged to have their flu and Covid vaccines to avoid a 'twindemic' – waves of both viruses at the same time.
Only 16-17% of two and three-year-olds have had a flu vaccine, compared with 60% of people 65 and over.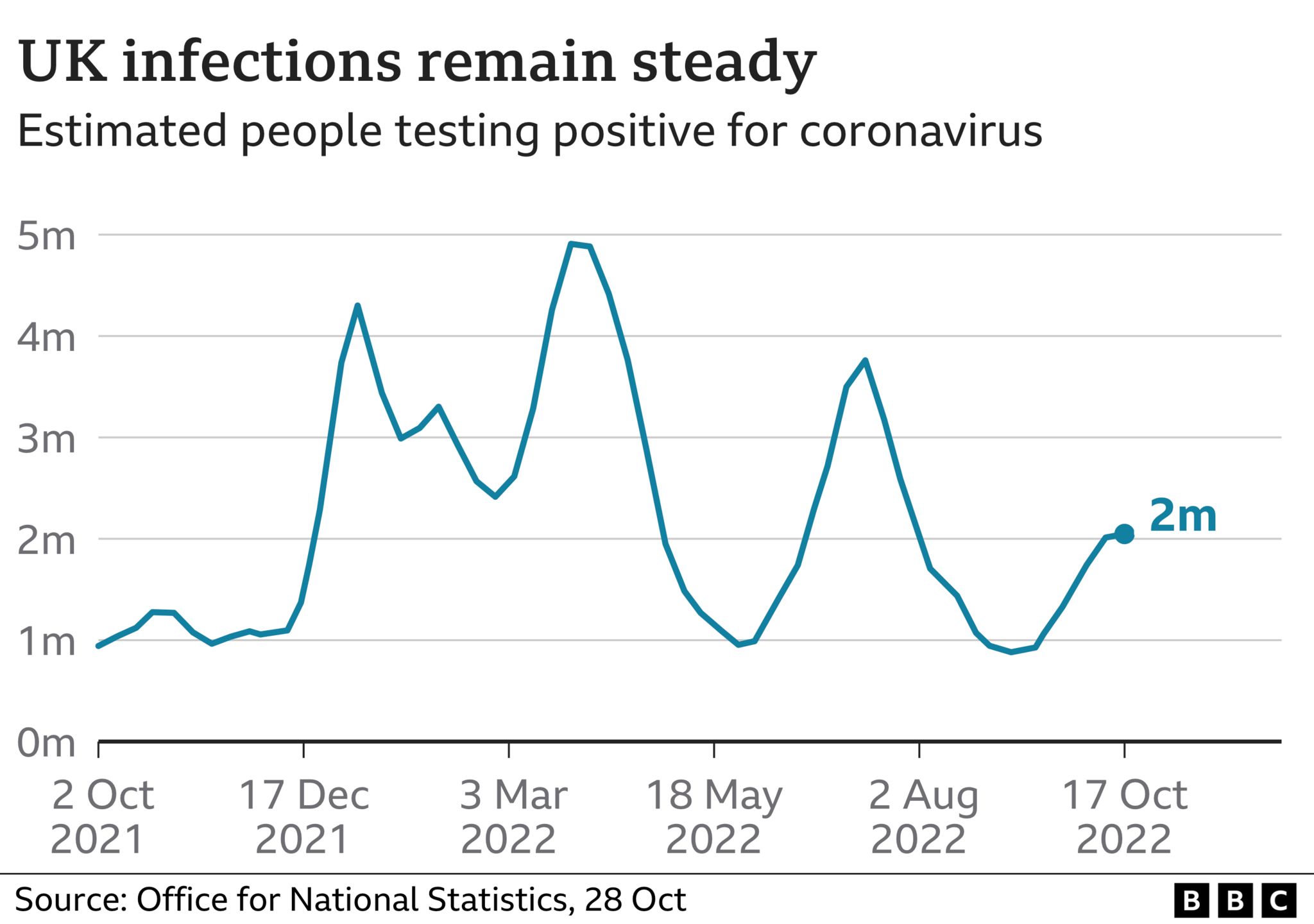 Infections went down in Wales, up in Scotland and Northern Ireland and stayed roughly the same in England in the week ending 17 October.
About two million people in the UK were infected with coronavirus that week, equivalent to one in 30 people – which is similar to estimates from the week before.
"It remains too early to say from the data whether we are seeing a turning point in the level of infections – which remain high across the countries," said Kara Steel, senior statistician for the Covid-19 infection survey.
The UK Health Security Agency has officially named two new Omicron variants currently circulating in England as BQ.1 and XBB.
Neither has yet been called a 'variant of concern' and health officials say vaccines are still the best defence against future waves of Covid-19.
According to the ONS, Covid infections were highest in people aged 50 and over, and there was a rise in infections in secondary school age children.
In the UK nations, Covid infected:
one in 30 people in England
one in 35 in Wales
one in 35 in Northern Ireland
one in 35 in Scotland
Read more
Related Content:Dumfries and Galloway hospital pressure exceeds worst of Covid pandemic