India's main opposition party has called for a full national lockdown, shortly after the country passed more than 20 million Covid-19 infections.
There has been a "virtual collapse of health services" and a lockdown is needed to "break the chain", a spokesman for the Congress party said.
The prime minister is resisting the move due to the economic impact.
India added more than 355,000 cases on Tuesday, down from more than 400,000 daily infections on 30 April.
Cases are "slowing down", the government said, but testing numbers have also dipped meaning the true caseload could be far higher.
"We are now forced – there is no option – [we] will have to resort to a national lockdown to break the chain, to restore some order in the health services," Pawan Khera, a spokesman for the opposition Congress party told the BBC on Tuesday.
Rahul Gandhi, a senior Congress leader, said there was no other way to stop the spread of the virus.

Calls for a second national lockdown have also come from business leaders, international health experts and other senior politicians.
Members of India's Covid-19 taskforce, which advises the central government, are "pushing hard" for a two-week lockdown, The Indian Express reported.
Dr Anthony Fauci, America's top public health expert, described the situation as "extremely serious" and said a nationwide lockdown was needed alongside a massive vaccination drive and the construction of makeshift hospitals.
The decision to impose restrictions in India is made by individual state authorities rather than the central government. Prime Minister Narendra Modi has said that states should only consider restrictions as "a last option".
But many states have still introduced restrictions. The northern state of Bihar is the latest to have announced a full lockdown while the capital, Delhi, and the financial hub, Mumbai, are also under restrictions.
Prime Minister Modi was heavily criticised last year for imposing a nationwide lockdown with less than four hours' notice. It caused a humanitarian crisis as tens of thousands of migrant workers were left without work and forced to walk hundreds of kilometres to their home villages.
The lockdown also saw India's economic output fall by a record 24% between April and June 2020 compared to the same period a year earlier, and the government has said another national lockdown would have dire consequences for the economy.
India's second wave has been fuelled by lax safety protocols and massive public festivals and election rallies. It has overwhelmed its hospitals and delays in testing, diagnosis and treatment – as well as a shortage of critical care beds and crucial drugs – have resulted in a spike in deaths.
The country has so far reported more than 222,000 deaths due to the virus. But experts say India's Covid death toll is vastly under-reported.
There have been very long lines at crematoriums, mass funeral pyres and cities running out of space to bury or cremate the dead.
Are infections actually slowing down?
India's cases have risen over the past week, but at a slower rate than in previous weeks.
And daily cases have fallen in Delhi, Uttar Pradesh and Maharashtra which are all hotspots of the crisis. Erratic testing, however, makes it hard to gauge the significance of these numbers.
Insufficient testing has proved to be another issue.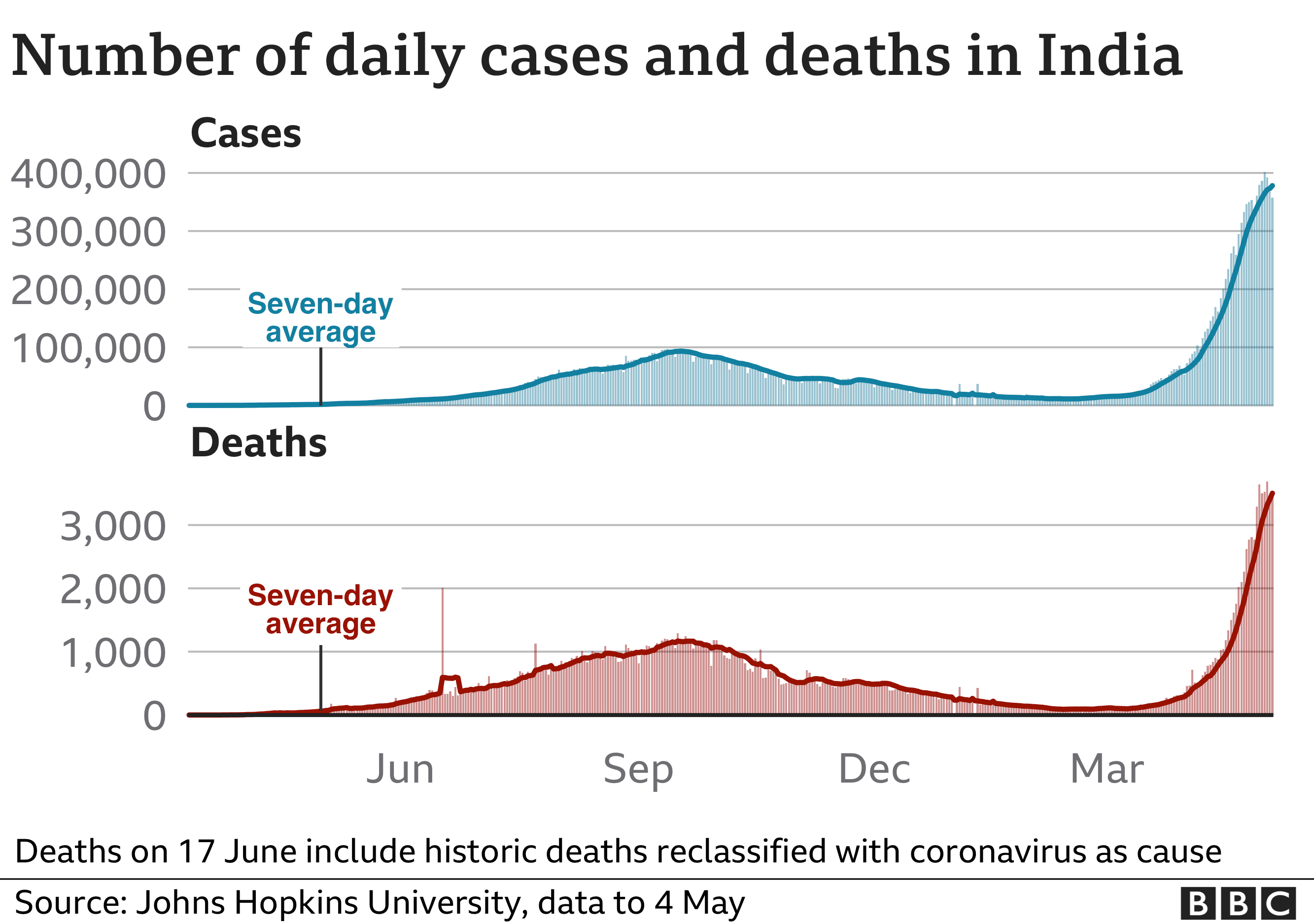 Health officials said there was "cautious hope" of some respite from the second wave. But Lav Agarwal, joint secretary of the health ministry, said progress needed to be sustained by "containment measures at district and state level".
Experts have also said other hotspots are likely to emerge in the coming weeks as the pandemic moves through the country.
Meanwhile, an oxygen shortage has shown no signs of abating and people in several hotspot cities, including Delhi, are struggling for treatment.
Is India's vaccination drive helping?
A sluggish vaccination campaign has compounded the crisis.
Since January, India has administered more than 157 million vaccine doses which ranks third in the world after China and the United States. But just over 10% of India's 1.4 billion people have had one dose and only about 2% have received both doses.
Despite being the world's biggest producer of vaccines, India is facing a shortage of supplies. And vaccination rates are down.
The chief executive of India's Serum Institute, the world's biggest vaccine manufacturer, has warned shortages will last for months.